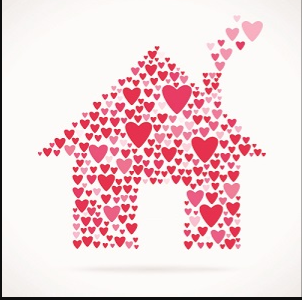 Buying a house is a lot like falling in love–it's all about finding the right match.
Whether you're just starting out or new to the house-hunting scene, you may have to "kiss a lot of frogs" to find that perfect match for you.
Then, when you're least expecting it, love hits you. Suddenly it keeps you up at night, and you find yourself daydreaming and obsessing. You start imaging your future. You rearrange the furniture in your head, you picture your prized possessions having a place there. You've got butterflies in your stomach and you know you've been bitten by the love bug. It's happened: you've fallen in love.
It's true that it's great when you have that emotional connection to a home and when it lines up with your logical decision-making it's even better. According to a recent survey, 56 percent of home buyers make their final decisions based on whether they have fallen in love with a property. When asked what made them weak in the knees, 58% chose the property because of the location, followed by 37% due to its price.
Just as in all manners of the head and heart, you as a buyer must be in tune to BOTH forces to make the best decisions. Your logic will tell you about neighborhoods, location, and price. Still, that same logic might be heavily influenced by things like colors, smells and sounds which can skew your thinking. If you're looking at a home and you fall in love with the idea of living in a certain community, those hopes and ideas may cause you to look past potential flaws in a house.
Love is blind, after all, so it's important that when you follow your heart, you take your head with you. Realistically, once bitten by the love bug, is it possible to remove emotion from your buying decision? Sure! Lots of real estate investors do it everyday. Keep in mind that those are usually decisions based on facts and figures.However, investing in real estate is different than buying a permanent residence There is an emotional element to buying a home and it's a big one. Your home can represent opportunity, for some it is a form of their identity. It's where your children play and where family memories are made. Perhaps I am a hopeless romantic, but I think having an emotional connection to a home is a beautiful thing.
So, how do you keep that loving feeling but still keep the emotions in check? Factors to consider when choosing "The One". How do you know if you've found your match:
Keep your compromises in check.

Compromise is the basis for all relationships. The question is which compromises will you have to make and what are your "must-haves" and

"deal killers." Refer back to the "must-have" list often so your not clouded in your thinking.

If you really want a garage, and the house you're contemplating doesn't have one, will you be able to cope with digging your car out on those "snow days"? Is it realistic to compromise on your original wishes?

.Will your decision survive the honeymoon-phase? With some guidance from your agent and some careful marrying of the head and heart, you can avoid buyer's remorse. Just don't be took quick to decide and take some time to ensure logic and emotion are working together.




Make sure your heart is not controlling the purse strings. Ensure you have analyzed the data and make sure that your agent is negotiating the right price and c

reating a

comparative market analysis (CMA)

will help you to look at things through an objective lens and keep those emotions in check.
Happy Hunting. Here's a Valentine's Day wish that you find that perfect match and always remember, I'm here to help.